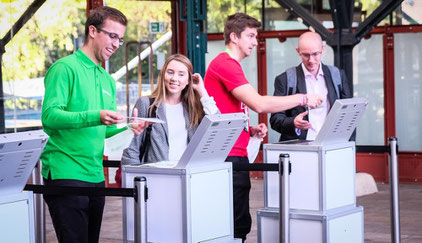 Complicated Excel list management? One-way communication with attendees? Long queues at the registration counter? These are the typical challenges, especially at special events.

The solution here is the integration of specialists. Onsite experience and hardware are extremely critical for smooth operations. At the same time, a guest management system is needed which accompanies attendees and data end-to-end efficiently through the process - and best of all on a simple platform and in its own design.


The onsite professional FastLane and the online platform doo have therefore joined forces to bring together the best of both worlds. It's about seamless data flow before and during your event, personalized services through intelligent online registration solutions, and smooth on-site registration.

FastLane with 17 years of onsite experience
The owner-operated FastLane GmbH located in Bonn is an experienced guest management service provider. Our team around Werner Schiffer has more than 17 years of experience and loves and lives for exciting event concepts and professional guest management. We offer event planners innovative guest management to support you throughout the entire event cycle. It does not matter whether it is a large event with several 10,000 attendees, where streams of visitors have to be precalculated, or small but very high-quality VIP events, where it depends on the personal touch. In the end, it is crucial that the concept and performance match the event and the budget.
Integration of the entire costumer journey on one platform
The keyword is full service package: Whether online registration, email marketing, live badging, access management, event apps or lead management, the combination of FastLane and doo enables the realization of all concepts - from a single source.
With more than 40 integrations to CRM and online registration platforms, a continuous data flow - even during the event - is provided. This offers you the possibility to communicate with your attendees on site.

Active control of attendee success
With email marketing campaigns such as highlights of the day, previews or upcoming workshops, you can also inform unregistered visitors during the event or actively reduce no-show rates. To keep the waiting time for registration as short as possible, you can equip your guests with their name badges via world's fastest full-colour live badging.
Features such as badge advertising - a category-dependent live print of logos, sponsors, agenda points or layouts as well as the individual branding of the registration counters offer additional advertising space.

The difference
Access management is one of the most critical phases of an event. If something goes wrong here, the most important element of an event - the attendee - starts his event experience on the wrong foot. As a full-service provider, we clearly benefit from a strong partner like doo. Automation and analytics in particular will grow strongly in the coming years. Therefore the integration and cooperation with doo offers the optimal combination for our customers, the best of both worlds.